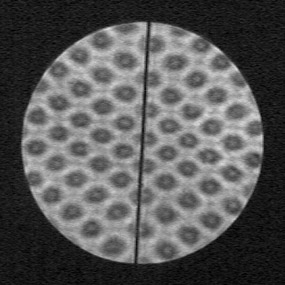 Rotating the spot grid 45 degrees doesn't change anything (right). You can still immediately see the astigmatism and its orientation, and you can still calculate its severity from a single photo. A spot grid works in two dimensions.
Next is the image of a single spot just inside the roc (below, left). This is the same 0.005" spot I used for the similar set of photos near the top of this page. Notice that the shadow of the spot has been drawn out into a bar, as before. This bar is exactly oriented with the short roc of the two astigmatism axes. Because the bar is thinner you can tell there is more astigmatism in this set of photos than the other set, when I used a lateral separation to achieve the aberration.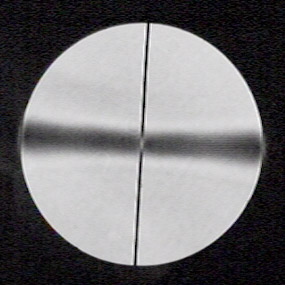 The next photo has the spot right at the roc (below, right). Once again, the shadow of the spot does not null the entire mirror. Remember, at the top of the page there is a photo where this same spot nulls (darkens) the entire mirror while in its spherical state.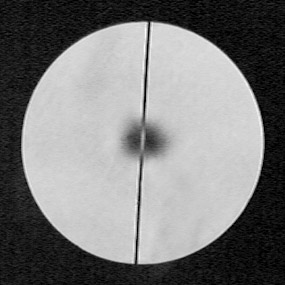 Next the spot is just outside the roc, and once again it's shadow is drawn out into a bar exactly oriented to the long roc (below, left). But this time you can see that the bar has a different structure. In the center is a relatively dark spot, which is the out-of-focus image of the spot. The rest of the bar is darkest at the ends (and rounded off), and fades towards the center. This is because of the manner which I used to impose the astigmatism into the mirror. When I used the lateral separation it affects the whole mirror more evenly. But you can see that now I'm usi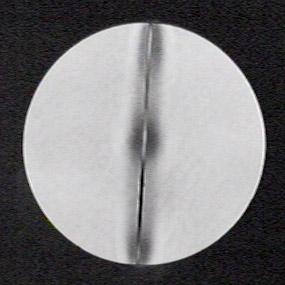 ng a wire across the face of the mirror, and it only touches the top and bottom edges. So the astigmatism is more pronounced at the top and bottom. This is a level of detail you will not see from a straight-edge testing device. Notice on the horizontal bar (two pictures up from here), that the bar is narrower in the center? That is because the bar is pushed on by a single bolt in its center. Where the bolt pushes there is more pressure, towards the ends the bar bends and there is less pressure. This demonstrates the difference between seeing astigmatism, or only detecting it.
A one-dimensional device does not see astigmatism, it merely detects it's presence. A star test does see astigmatism because there is nothing to restrain it to one dimension. On page 256 of Dick Suiter's very nice book, Star Testing Astronomical Telescopes, Fig. 14-4 shows what simple astigmatism looks like in a star test. There are inside focus, best focus, and outside focus images. The images he shows are the diffraction-pattern equivalent to my three images. You see a bar inside focus, and a perpendicular bar outside focus.